COST Action Meeting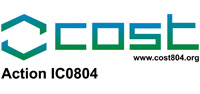 On May 8th, the COST Action IC0804 on Energy Efficiency in Large Scale Distributed Systems (www.cost804.org) is organizing an open meeting before the e-Energy conference.
The participation to this meeting is free of charge, and open to the community.
The program will be delivered soon. Normally, the Working Groups and the Focus Groups of the Action (see details on www.cost804.org) are meeting and they discuss various points with support of dedicated agenda.
If you want to participate to this meeting, please contact the Chair of the Action (Jean-Marc Pierson, pierson at irit.fr) or the WG and FG Chairs so as to organize the logistics. If you want to have more information please contact the Chair of the Action.

1st International Workshop on Energy-Efficient Data Centres
May 8th, 2012 (Venue)
Technical Program
9:20-9:30
Welcome,
Prof. H. de Meer (University of Passau, Germany)
9:30-9:50 FIT4Green approach, G. Giuliani (HP Innovation Center, Italy)