Open House program
Note: This event is free and open to the public. It requires registration.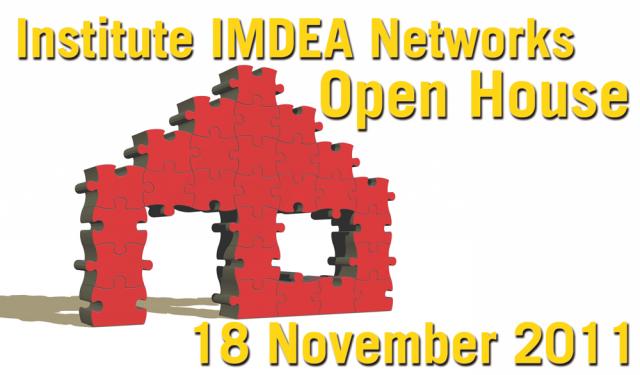 THIS IS HOW WE DO IT
In a fun and interactive way, this event offers attendees the opportunity to gain hand on experience in research by participating in games that will showcase the importance of pushing the limits of state-of-the-art technology, by posing questions and testing the possible outcomes given through choices. It will show participants how fresh and inspirational scientific research in networks can be, by proving how everyday actions such as making a call from a mobile phone and obtaining an answer involve a great deal of thinking and decision making by communication networks specialists. And still the unexpected may happen…
There will be prizes awarded to winners of the experiments conducted, which will all require some measure of audience participation.
THIS IS WHAT WE DO
A key element of this event program is to give attendees an up-to-date 'insider's' view of what is happening in the science of networks today from Institute IMDEA Networks' perspective. It will also afford the opportunity to inform them about interesting opportunities for a professional career in network research.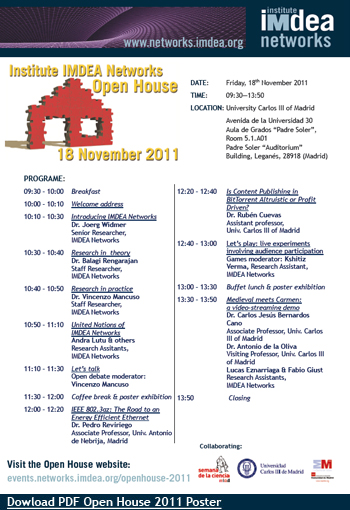 THIS IS WHO WE ARE
Some of our researchers, from those at the start of their career to those well experienced, will explain what the Institute is and aims to be, that is, its reason to be and its objectives. We shall welcome your questions and feedback.
SCHEDULE
09:30 – 10:00: Breakfast
10:00 – 10:10: Welcome address
10:10 – 10:30: Introducing IMDEA Networks
Dr. Joerg Widmer
Senior Researcher, Institute IMDEA Networks
10:30 – 10:50: Research in theory and practice
Dr. Vincenzo Mancuso
Staff Researcher, Institute IMDEA Networks
10:50 – 11:10: The United Nations of IMDEA Networks (Slides)
Andra Lutu & others
Research Assistants, Institute IMDEA Networks
11:10 – 11:30: Let's play: live experiments involving audience participation
Games moderator: Kshitiz Verma
Research Assitant, Institute IMDEA Networks
11:30 – 12:00: Coffee break & Poster exhibition
12:00 – 12:20: IEEE 802.3az: The Road to an Energy Efficient Ethernet (Slides)
Dr. Pedro Reviriego
Associate Professor, Universidad Antonio de Nebrija, Madrid
12:20 – 12:40: Is Content Publishing in BitTorrent Altruistic or Profit Driven? (Slides)
Dr. Rubén Cuevas
Assistant Professor, University Carlos III of Madrid
12:40 – 13:00: Let's Talk
Open debate moderator: Dr. Vincenzo Mancuso
13:00 – 13:30: Buffet lunch and poster exhibition
13:30 – 13:50: Medieval meets Carmen: a video-streaming demo
Dr. Carlos Jesús Bernardos Cano
Associate Professor, University Carlos III of Madrid
Dr. Antonio de la Oliva
Visiting Professor, University Carlos III of Madrid
Lucas Eznarriaga & Fabio Giust
Research Assistants, Institute IMDEA Networks
13:50 Closing
Download the Open House program
Access here University Carlos III of Madrid's program of events during Science Week 2011: Mesas redondas y
congresos